'RETURN TO WORK' PLAN WILL REQUIRE ADDITIONAL CORONAVIRUS SAFETY MEASURES
With the nationwide lockdown now into its seventh week, measures are being drawn up by the government to allow certain industry sectors to return to work. The reports we have to date indicate that members of the construction, manufacturing, and retail sectors will be given the go-ahead to return to work. Should this phased roll-out prove successful, it is likely other sectors will follow.


As part of this new way of working, employers will be expected to introduce measures that ensure the safety of their staff and customers.
For example, social distancing will need to be maintained at all times; proper sanitation procedures must be implemented and enforced; and, of course, and anybody exhibiting symptoms of the coronavirus must not be permitted entry to the workplace.
As one of the key symptoms of COVID-19 infection is a raised temperature and fever, an effective way to protect your team and your customers alike is through the use of fever temperature detection cameras.
DOWNLOAD BROCHURE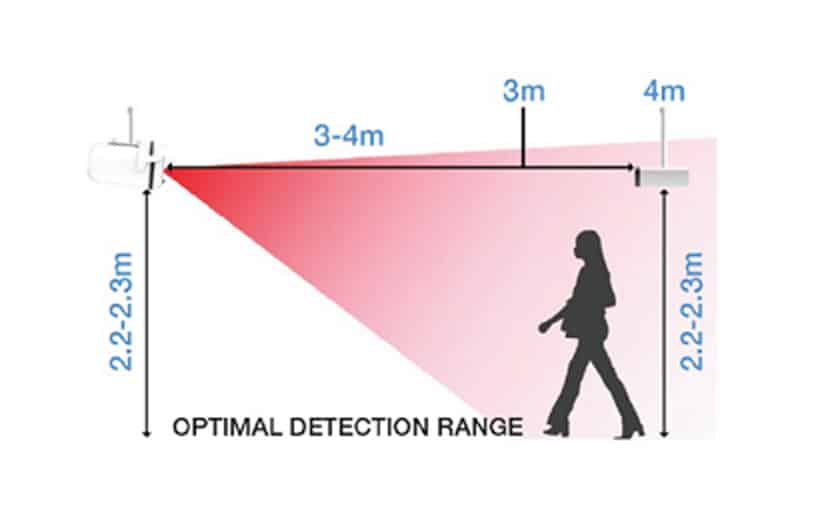 FEVER TEMPERATURE DETECTION CAMERAS
Recent developments in body temperature detection technology have seen huge improvements in accuracy, volume, and efficiency. The high-end detection system we install can confirm a person's body temperature within a couple of seconds, resulting in a minimal impact on the comings and goings of employees and visitors to your building.
Suitable for installation in all manner of settings, this system is equally at home on construction sites, office buildings, retail outlets, warehouses, industrial parks, and more.
The system is flexible, capable of monitoring up to forty people at a time. Its is constantly monitoring the situation, highlighting at-risk individuals on-screen. This means it can be operating on a one-on-one basis by concierge staff, or remotely monitored by eye-in-the-sky security.
Our fever temperature detection system is simple to use. Each person looking to enter your business premises would be required to undertake a scan at the door or inside the reception area. This scan takes no more than a couple of seconds – quicker than checking an individual's security pass. The cameras are linked to a monitor which immediately informs your concierge staff of the individual's body temperature. If it is unusually high, the monitor will flag it as such, allowing your front-of-house team to politely refuse access to the building and to inform them of the reason why.
GETTING BACK INTO BUSINESS
Aside from the obvious safety benefits offered by our body temperature detection system, there are the immediate financial advantages it brings. However this return to work manifests itself over the coming weeks and months, it is an opportunity to recoup some of the losses incurred over the last couple of months. It is a return to some semblance of normalcy for your and your staff, and a chance to reconnect and engage with your customers once more.
GET IN TOUCH
AN END-TO-END SAFETY SOLUTION
As our existing customers will know, any safety or security packages from Marpol Security have all the bases covered.
Not only will our team of engineers install the fever temperature detection cameras in the best position for optimal monitoring, they will also instruct your concierge staff on how to operate the system most effectively.
As ever – should you need it – we offer technical support and maintenance services for all our equipment.
A phased return to work is the first step towards normality for the country. However, it can only succeed if the risk of a second peak of coronavirus infection is kept to a minimum. By monitoring the body temperature of each visitor and employee, you not only ensure the continued safety of your staff, but play your part in limiting the spread further afield.
For more information on this essential safety tool, get in touch with Marpol Security today.