Aside from Brexit, the major political talking point in the UK at the moment is the marked increase in knife crime. The number of knife-based assaults in recent months has risen alarmingly and, whilst Parliament remains at loggerheads over the issue of extra police funding, it seems to show no signs of abating.
It is particularly prevalent in metropolitan areas like London, Birmingham, Liverpool and Manchester and is a major cause of concern for police and citizens alike.
Total knife offences in England and Wales
Offences involving a knife or sharp instrument
Knife crime can affect anyone, not just people in gangs. Innocent bystanders can get caught in the middle of other people's disputes and suffer trauma, serious injuries or worse.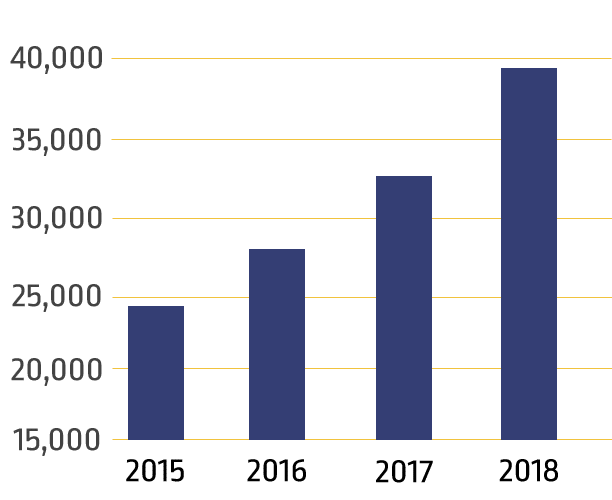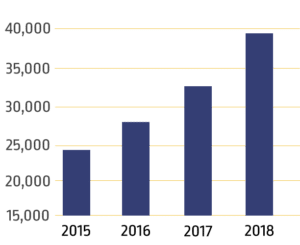 Here a Marpol Security, we are 100% behind the police on this issue, recognising that it is only with the proper resources in place that a concerted effort to reduce the incidences of knife crime can take place. However, we also recognise that, until something is done, companies large and small across the Greater Manchester area are at risk.


This is where private security solutions can help.
If our time in the security industry has taught us nothing else, it is that our clients view the safety of their staff as paramount. Many of the roles taken up by private security firms like Marpol Security are currently conducted by a designated member of staff, but so many of these duties can potentially put them into unnecessary danger.
The position of alarm response manager, for instance. Traditionally given to whichever staff member lives closest to the premises, the police or the alarm company would contact them in the event of a suspected break-in, and they would be expected to go to the building to reset the alarms and check the various doors and sensors that made up the alarm circuit.
All well and good, and doubtless most of those call-outs proved to be false alarms, but what if they weren't? Turning up in the dead of night and surprising either a would-be or an actual intruder who is also carrying a knife? That's a recipe for disaster, and a disaster for which you as the employer would be held accountable.
Let us also consider your reception staff. Are they equipped, either physically or emotionally, to handle a member of the public entering your building with a knife on their person? It may seem unlikely, but that's what happened recently at a hotel in Euston and, a few months back, at a hospital Accident and Emergency department in Leicester.
So what is the solution? It's simple really. In the same way that you would outsource your accounting to a firm trained to do the job and do it well, or in the same way you would hire a catering firm to run your works canteen, rather than expecting a member of staff to make lunch for everyone each day, pass responsibility for your business' essential security arrangements to a company that knows what it's doing.
With a private security firm as your alarm response team you know that a trained professional is attending each call out, someone who has experience dealing with dangerous persons in the event that one is still on the premises.
Front of house security (otherwise known as concierge security) can fulfil all the roles associated with traditional reception duties, whilst also having the training and qualifications to restrain a trespasser with violent intent and the means to do so in their hands.
If you run a company in the Greater Manchester area, or further afield in the North West, and are concerned for the safety of your staff, give Marpol Security a call today on 08085 627 765 or email info@marpol.co.uk. A member of our team will be happy to go through the various security options we have and put together a customised package that ensures peace of mind for both you and your employees.